Over many decades of image making for gallery exhibitions and private collectors I've always welcomed the opportunity to work on large, site specific works, as they combine the constraints of a given location with the liberty of re-interpreting a space. The commissioned projects below have been the result of the many conversations with my clients and the intended users of the finished projects. The research I do for each unique proposal brings me into collaboration with architects, kindergarten children and teachers, hoteliers, genomics researchers, cancer patients and medical staff, and even with New Yorkers seeking consolation through remembrance after the fall of Manhattan's "Twin Towers" in 2001 (link so that it jumps down)
In early September of 2001, following my 1998-99 World Trade Center residency and the work I had done in the subsequent two years, I was finishing a proposal I wanted to pitch to the Port Authority for a monumental multi-panel piece depicting the view from the towers, meant for one of the lobbies at their base. But before I was able to present it, the events now referred to as 9/11 took place, and I along with many fellow New Yorkers saw first hand the fall of the towers. 
I thought that this day would see the end of art's capacity to address the real. What could art have left to say in the face of such devastation? But as things turned out, there was still a use for art.
Read More…

A friend of mine, Lisa Frigand, told me this work had to be seen, and we eventually met Sandra Bloodworth, the head of Art for Transit, the MTA's public art program. Sandra had been looking for a project which could create a place for remembrance of 9/11 and celebrate the resilience of the city, and she commissioned a piece – 2 really – for Vanderbilt hall in Grand Central Station.

"The paintings, rising 35 feet on either side of Vanderbilt hall, show the views East and West as they could be seen from the upper floors of World Trade Center.

To the west, the Hudson's wide green expanse, layered with receding shapes that fade into a hazy sky. To the east, Brooklyn's jagged shoreline spilling forward into the East River, topped by a stretch of cloud-mottled cobalt blue. 

These were typical views before September 11 that all who worked in the Towers experienced as part of their daily routines".
Often, a commission involves working with the client to understand their vision, with the architects to understand their design, the stage of the project, and the constraints and possibilities this dictates, and engaging with the location's users, to better understand how I can serve them. All of these came to play in the recently completed Proton Therapy Center at Lancaster General Hospital.
"The search for the perfect piece of art to welcome patients to the new Proton Therapy Center led the Cancer Institute team to Brooklyn artist Daniel Kohn.
For nearly two decades, Kohn's work has explored the intersection of art and science. It began when his work caught the eye of an oncologist who founded the Broad Institute of Massachusetts Institute of Technology and Harvard — a Cambridge, Massachusetts research organization focused on genomic medicine.
Kohn's work with the Broad impressed the Cancer Institute team, which also considered the portfolios of several other talented artists. Along with his appreciation for science and experience working in large spaces, Kohn stood out by taking a very human approach.
"Daniel asked different questions than the others," Oyer said. "He wanted to come out and see the setting and learn more about what we hoped to accomplish through the art. He also wanted to meet our care team and get a better understanding of our patients' experience.""
Meaning also grows out of this interaction. In the case of the Broad Institute, dialog spanning almost ten years with the many scientists at the Broad was central to the very emergence of the work's visual language. 
Instance of a Dataset - Broad Institute - 2013
The end result of 10 years of collaboration, this commission started with an email I received from Todd Golub in 2003 "I'm an oncologist, an amateur pianist, and am interested in the visual arts. I've always been fascinated by how these things communicate. I recently saw one of your paintings which made me think about science…".
This struck the chord of my own amateur interest in physics and philosophy, and so we started a discussion about art and science, how they communicate and why. We found early on that rather than defining art and science as polar opposites – where science is objective and art is subjective – and therefore cannot communicate, it was much more interesting to define both art and science as attempts to describe the world, from a point of view, within a tradition, with the tools of that tradition.
That initial understanding between us led to my first visit to his lab, his to mine, and eventually to an ongoing relationship with the Broad Institute which Todd co-founded in 2004, and a formal residency for a couple of years. It also led to a deep shift in the focus of my work from looking at the physicality of place to exploring the place of science.  I wanted to ask: What are the structures in science that allow us to understand the world; to do research? Are they similar to what happens in art? And is there something there to help us understand how we exist in the worlds today?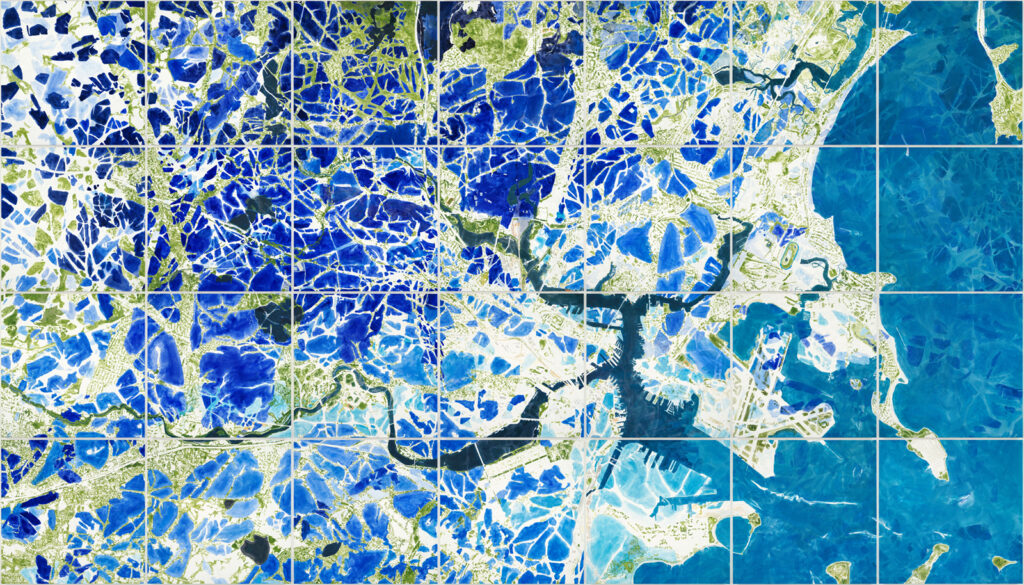 In the Fall of 2015, I was approached to make a proposal for a new administrative hub for Partners healthcare, an organization regrouping 13 Boston area hospitals. 
One of the entryways also sported a four story wall with a staircase in front of it, which beconned to me despite the fact that it was not part of the available spaces for this commission.
At the time I was working on my Network Series (link) and could not let go of the idea I had for that wall, for a huge multipanel tree, defined on ochre canvases by painting in the negative spaces in white paint, much as I had been doing in the Networks.
Sometimes these visions are meant to be… and sometimes it takes another another round. 
My work with Fiduciary  Trust emerged from the way so many experiences intersected and collided when the towers fell in NY in 2001. Having seen Seen from Above being installed at Grand Central station, Henry Johnson, then FTCI's executive vive president, had the immediate sense that this work could meet their own need to invoke their own historical connection to the towers to their new location in Rockefeller Center, where they moved to after losing their offices and the lives of 83 of their co-workers on that day.  
In this case our memories came together, as photographs from FTCI  employees complemented my own World Trade Center  documentation, which had not included the southern view.
Looking South – based on my 1998 residency in the World Trade Center – is an exploration of the echos between loss, remembrance, tragedy and the perseverance of life as they echoed the city in the years following 911.
Commissioned for Fiduciary Trust Company International's worldwide headquarters at Rockefeller Center, the painting depicts the view looking south from their offices in Tower Two, and is composed of four 10-foot square oil-on-canvas panels, which rise 41 feet within a four-story interior staircase.
In 2016, the work joined the permanent collection of the 911 Memorial and Museum, where it now hangs.
Read More…
Looking South depicts the view south across New York harbor from Fiduciary Trust's reception area on the 94th floor of Tower Two. This was not the primary view I experienced from the space in Tower One — where I was artist in residence in the winter of 1998-99 — as my studio faced east over Brooklyn. Instead, thanks to the help of Fiduciary Trust employees and families, who shared personal photographs, and Monica Bravo, a videographer and later resident of the World Views Residency who share some of her video footage, a "virtual memory" was reconstructed from which I could work. 
Ascending the staircase at Fiduciary's new headquarters, employees and visitors would rise from lower Manhattan, traverse the busy harbor, and ultimately cross the horizon into the sky and clouds. The painting formed a column of light and color which made the view from the World Trade Center central to Fiduciary Trust location in Rockefeller Center, a literal and figurative backbone of history that was central to the firm's operations. 
In 2016, as FTCI planned a move to new headquarters with only 3 floors, Looking South was moved to the 9/11 Museum, where it is now on view.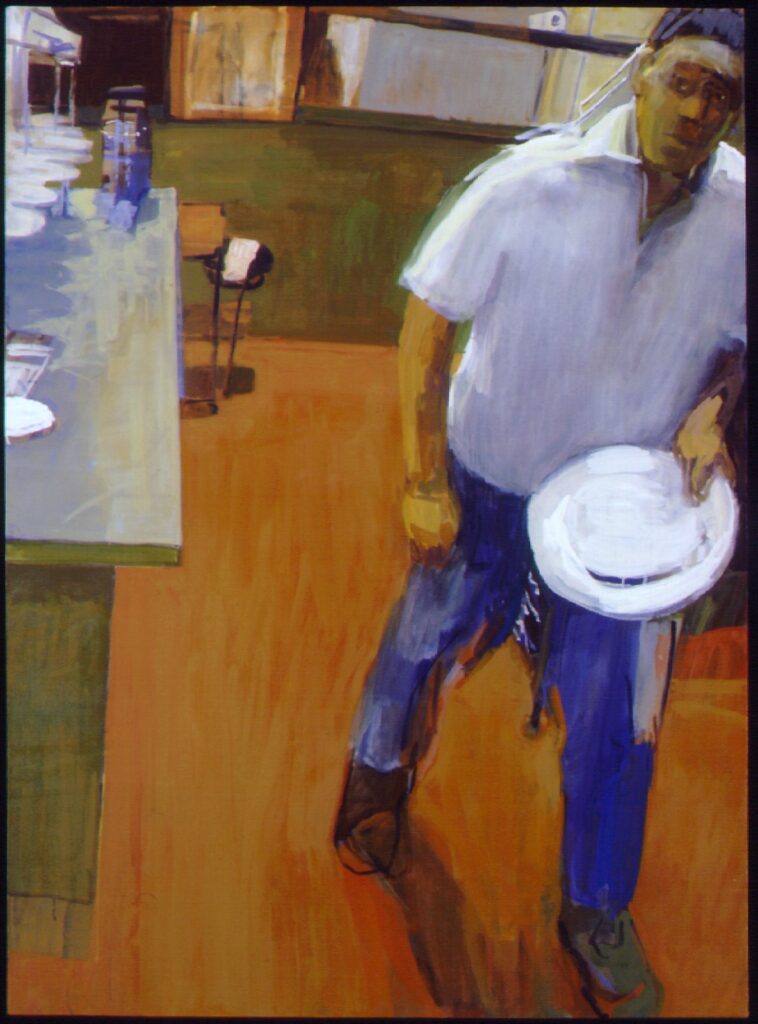 My first year in the United States, following my move to Brooklyn in 1996, was an exciting one. Though I am also from here, I felt that leaving France gave me an opportunity for reinvention which I seized upon to make new work on a scale I had never attempted before.
During that year, I met Ute Stebich, my first American gallerist, who also introduced me to the Simons, owners of the Wheatleigh Hotel, who commissioned a body of work for the Wheatleigh based on my Interior series.
For this project, which took two years, I came up to Lenox from brooklyn once a month for a few days, during which I was given a room to work in and the run of the place, from the kitchens all the way to public spaces and private rooms.
While the kitchen paintings were eventually shown at Ute's gallery, the commission came to be articulated around the idea of superimposing, or mapping, my family house in Changy (which I had been painting in France the previous few years) onto the Wheatleigh.
Ecole maternelle Jules Ferry - 1994