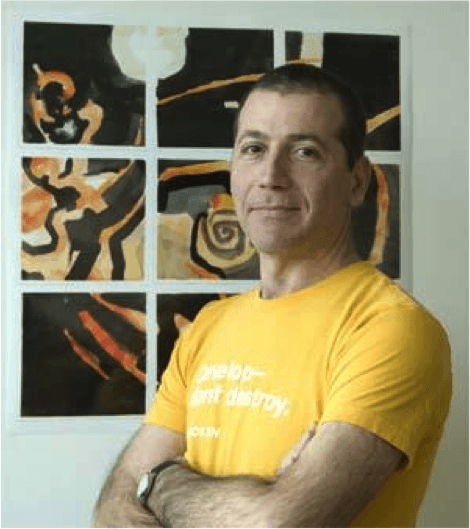 Painting has always been a space for me to ask questions and conduct research.
Since 2003 I have used my work to explore intersections between art and science. I have collaborated with scientists, artists, and theorists and have developed new artistic processes to understand, reflect, and respond to ecological realities, environmental catastrophe, and the warming of our planet.
For me aesthetics are tightly linked to cultural history, ecology, and processes of inquiry. Collaborations across disciplines have enabled me to create paintings that reflect a world in flux. I have come to view the process of image-making as something that must continually evolve. If I am open to experimentation and expanding what painting is, then my work has the capacity to both reflect reality and offer new ways of looking.
I hope you find the trip meaningful.
Daniel Kohn
Personal Exhibitions
Commissions
Group Exhibitions
Conferences & Workshops
Personal Exhibitions
| | | | |
| --- | --- | --- | --- |
| 2016 | Looking South, Permanent Collection of the 911 Memorial and Museum | New York, NY | USA |
| 2013 | Instance of a DataSets, Broad Institute | Cambridge, MA | USA |
| 2011 | DataSets, Dartmouth Hitchcock Medical Center | Lebanon, NH | USA |
| 2010 | DataSets, Broad Institute | Cambridge, MA | USA |
| 2009 | Sets and States, Cynthia Reeves Gallery | New York City, NY | USA |
| 2009 | New Directions, 3 Column Gallery, Harvard | Cambridge, MA | USA |
| 2007 | Presence and Memory, Spheris Gallery | Hanover NH | USA |
| 2006 | Presence and Memory, Reeves Contemporary | New York City, NY | USA |
| 2005 | SKH Gallery | Great Barrington, MA | USA |
| 2004 | Interior-Portraits, Spheris Gallery | Bellows Falls, VT | USA |
| 2004 | Interior-Portraits, Reeves Contemporary | New York City, NY | USA |
| 2001 | Ute Stebich Gallery | Lenox, MA | USA |
| 1999 | Cielo Vivo | Chicago, IL | USA |
| 1998 | Ute Stebich Gallery | Lenox, MA | USA |
| 1998 | Montserrat College of Art Gallery | Beverly, MA | USA |
| 1997 | Garces-Velasquez Gallery | Bogota | Colombia |
| 1996 | "Portraits", Folies d"Encre | Montreuil | France |
| 1995 | Portraits et conversations, Horlieu – Partage et Lisière | Lyon | France |
| 1994 | Garces-Velasquez Gallery | Bogota | Colombia |
| 1993 | Church of Saint André | Montreuil | France |
| 1993 | Espace Confluence | Paris | France |
| 1993 | Instants Chavirés | Montreuil | France |
| 1992 | Tour de Purgnon, Mediathic Gallery | Die | France |
| 1991 | Luc Queyrel Gallery | Paris | France |
| 2002 | Seen from above, a place for contemplation, Grand Central Station – A commission from Art for Transit/MTA to reflect on the events of September 2001 | New York City, NY | USA |
Commissions
Group Exhibitions
Conferences & Workshops
Tab #1
https://docs.google.com/spreadsheets/d/e/2PACX-1vQbIzh22gD6rAL8cRKsXTW3xR8JTa43M7X6Ms10OmdOJUnlTTrWv7e35JQojAYb2FBCzz-DoU96ti2e/pub?gid=1846770407&single=true&output=pdf
Tab #2