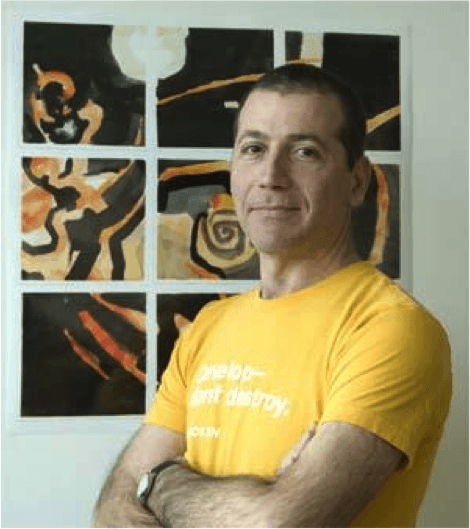 As an American artist born in India of French and American parents, I have traversed cultures and geography, and the abiding theme of my work is how people understand events and ideas within the context of place — geographic, cultural, or historic.
For many years the places I worked from were predominantly physical – a farmhouse in France, the view from the World Trade Center – but I saw my work in relation to them as an exploration of the manifestations of humanity. These places carried the ideas of the people and cultures that built and inhabited them. Paintings of places were representations of world views.
Since 2003 this interest in place has taken me into an ongoing encounter with the space of science, a ten year involvement with the Broad Institute (a genomics research institute at Harvard/MIT) and current involvement with transdisciplinary research in the form of a collaborative research project on Ocean Memory funded by the NAS.
For me aesthetics are tightly linked to cultural history, ecology, and processes of inquiry. Collaborations across disciplines have enabled me to create paintings that reflect a world in flux and I have come to view the process of image-making as something that must continually evolve. If I am open to experimentation and expanding what painting is, then my work has the capacity to both reflect reality and offer new ways of looking.
Daniel Kohn
Commissions
Personal Exhibitions
Group Exhibitions
Conferences & Workshops
Grants and Residencies
Commissions
| | | | |
| --- | --- | --- | --- |
| 2022 | Integrated Installation – Commissioned by Lancaster General Hospital for the new Proton Therapy Center | Lancaster, PA | USA |
| 2016 | Partners Network – Commissioned by Partners Healthcare for their administrative headquarters | Sommerville, MA | USA |
| 2013 | Instance of a Dataset – Commissioned by the Broad Institute for its headquarters at 7 Cambridge Center | Cambridge, MA | USA |
| 2011 | Dataset and 9 SubSets – Commissioned by Duke Energy for its headquarters | Charlotte, NC | USA |
| 2003 | Looking South – Commissioned by FTCI for its headquarters at 600 5th Avenue | New York City, NY | USA |
| 2002 | Seen From Above – Commissioned by MTA Arts for Transit for an exhibition at Grand Central Station | New York City, NY | USA |
| 2000 | 28 foot vertical piece and suspended room for exhibit at the Chapelle des Dominicain | Clermont l'Hérault | France |
| 1993 to 1994 | 1% Artistique, Jules Ferry kindergarten – Sculpture and painting project commissioned by the city of Montreuil (with A. Yamou) | Montreuil | France |
| 1993 | Altarpiece for the Church of Saint Pierre | Montreuil | France |
| 1992 | Collaborative series of works made for a circular chapel in Die. Tour de Purgnon, Mediathic Gallery | Die | France |
Personal Exhibitions
Group Exhibitions
Conferences & Workshops
Grants and Residencies